Tackling LED lighting maintenance factors head on

Not only is LED lighting much more efficient than other types of lighting, but its maintenance factor is also very different, which affects how LED lighting specifications should be calculated, as Jamie Yates of Trilux explains.
That's how we've always done it,' is the failsafe fallback that works until new technology enters the arena. This phrase leaves us open to the dangers associated with applying quick, easy and tried methods!
LED lighting has grown rapidly in acceptance and popularity in the, so why is 0.8 still used as the maintenance factor (MF) in calculating LED lighting designs and specifications? We all know it's a problem, but we have yet to fully tackle the issue head-on. Do we know the knock-on effects of incorrectly using it?
To fully enjoy the energy-saving and flexibility benefits of LED, we need to pay close attention to the maintenance factor.
Maintenance factors are an important consideration in the planning of lighting installations on both new build and retrofit. Naturally, all lighting fittings will gradually see a reduction in the amount of light they provide over a project's lifetime. The maintenance factor provides a percentage by which the installed luminous flux must be increased at the start of the installation life to maintain the required lux over the lifetime of the installation — be that five years due to a lease end, 10 years due to 24/7 operation, or 20 years for perceived refurbishment.
For example, if a project requires 500 lx across its lifetime and the maintenance factor is set at the default 0.8, to maintain the desired luminance an initial 625 lx should be installed. Is this over lighting the space un-necessarily? Could 'constant lumen output' drivers or, indeed, dimming sensors have avoided this?
The maintenance factor is made up of four core elements.
• Lamp lumen maintenance factor (LLMF)
• Lamp survival factor (LSF)
• Luminaire maintenance factor (LMF)
• Room surface maintenance factor (RSMF)
Multiplying these four factors together gives the maintenance factor. With so many variables, why has 0.8 become the norm?
Until now 0.8 has used as the default for maintenance factors, which has been acceptable, but as new technology shifts the market the maintenance factor should be altered to match the project specification.
So why does LED change the standard?
With LED, the lamp lumen maintenance factor is particularly significant, and so is its impact on the overall maintenance factor. It's important to remember LEDs have a very long service life — one which may outlast the life of the installation.
When specifying LED lighting, it is important to indicate the service life used in calculations because it will lead to decisions on the initial light level and the number of installed luminaires. This will have a significant impact on the amount of lighting required and reflect on both capital and operational costs.
The power and lifetime of an LED is generally expressed as:
L80 B50 50 000 h at 25°C.
• L is the percentage of usable lumens available over the service life.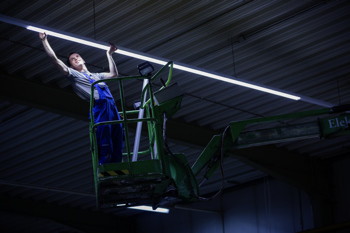 • B is the percentage of LEDs that will be below the L value.
• h is hours of service life referred.
Why plan for 12 years when you only need seven?
Why plan for 12 to 15 years of operation if you only have a 7-year lease for an office space? By changing this time, the lamp lumen maintenance factor will be altered, and the amount of initial light and number of luminaires could be greatly reduced. This will save you money! Not just in the initial capital outlay, but the running costs of the project.
One of the main challenges is that it is difficult to compare like-for-like when specifying.
For example, you may find office luminaires that state L80 B50 50 000 h at 35°C all the way down to L70 B50 30 000 h at 25°C. This lack of consistency in comparative figures also creates difficulty in making a clear comparison.
The ENEC+ organisation is developing standards for the validation of the lifetime and performance of LED-based products. The aim is to give users confidence in what they are specifying and purchasing. The ENEC+ mark will also standardise the use of L and B factors, making direct comparisons much easier.
Furthermore, all good luminaire suppliers should be able to give you a table of LLMF and LSF values for any given luminaire life over any given project life
So, all we are left with is the LMF and RSMF to determine.
RSMF are well documented sets of values for different types of rooms, be they dirty plantrooms, cleanroom laboratories through to offices (CIE97:2005).
Unfortunately, the LMF is the one element that needs revising within the CIE 97:2005 guide on the maintenance of indoor electric lighting systems, as these values are based on outdated fluorescent luminaire technology. The A to G categorisation (page 5 of CIE97:2015) needs revising to reflect the different values and characteristics that LEDs bring. However, even with this, an educated assessment can be made as to where a given luminaire should be in terms of its LMF.
Furthermore, the ZVEI, a European body for the electrotechnical and lighting industries, has produced a guide to reliable planning with LED lighting.
As the Society of Light & Lighting Code for Lighting points out: 'The maintenance factor has a great impact on energy efficiency.' If we work with inaccurate maintenance factors, we are more likely to overlight at the start of a project which will result in high energy usage and bills.
Like all bad habits, breaking them isn't easy. This needs to be tackled head on by everyone in the industry. Designers, manufacturers and clients all need to play their part.
As a manufacturer, Trilux is working to provide clear information on its products by engaging with projects such as ENEC+ and ZVEI. Over-specifying is already a problem in other areas of building services such as pumps and fans. There is no need for lighting to follow the same path.
Jamie Yates is responsible for international key accounts with Trilux and the Trilux Akademie. To learn more about maintenance factors and the effects on your lighting installations visit the Trilux website or look out for the next Trilux Akademie session. 
Related links:
Related articles: