The future is now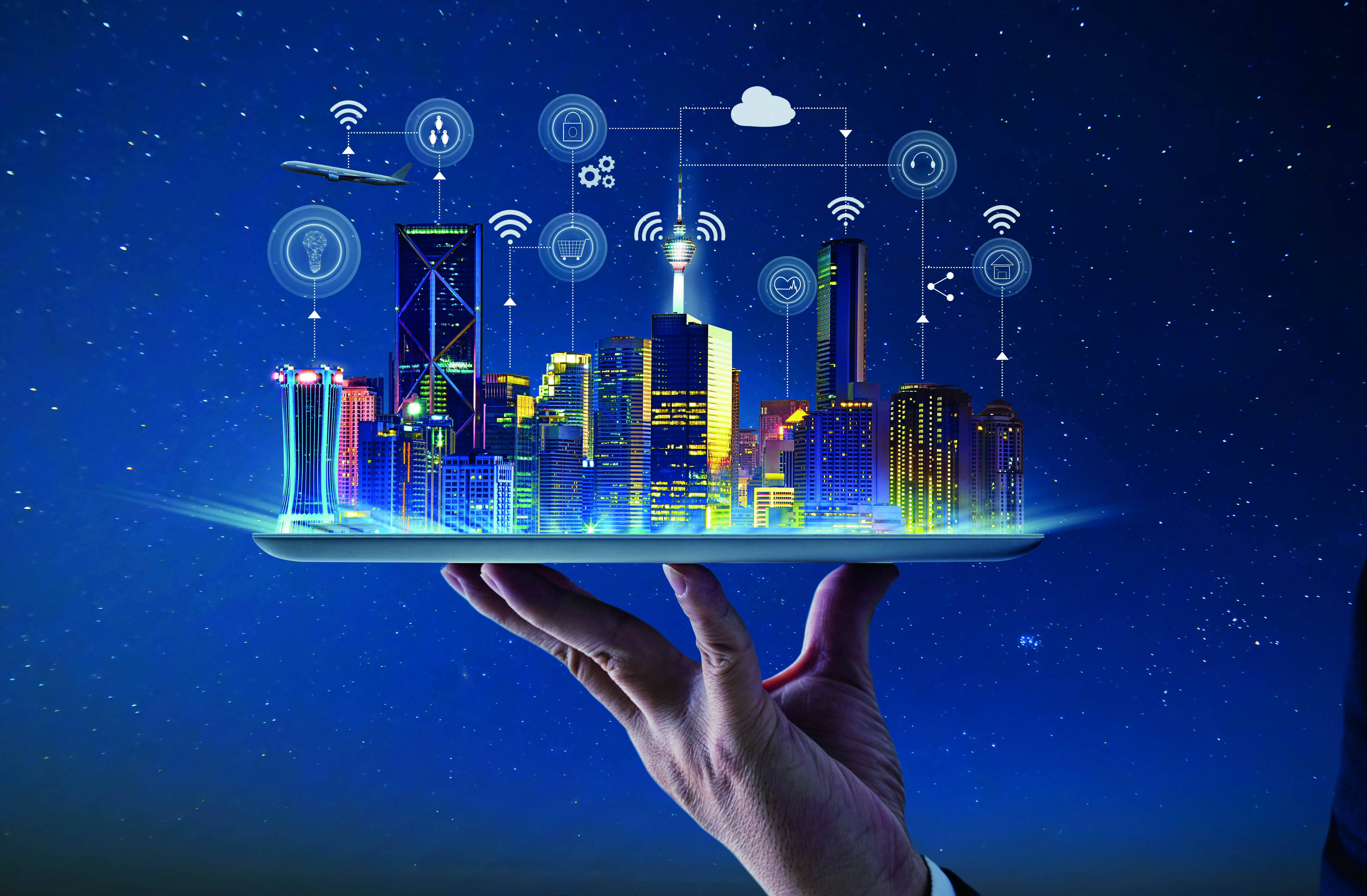 Renu Chopra reports on trends in smart building technology and considers the gap between vision and reality.
Imagine walking into your office and the building automatically adjusts the temperature and lighting to how you like it. Your meetings for the day have been scheduled in the company meeting rooms (from your smartphone) and your guests arrive in reception to see a 'Welcome' notice on the public screens there.
Behind the scenes, the building management system is ensuring that the HVAC equipment operates at optimum performance while also keeping track of the number of people that are present in the building to assess where energy is most needed. The facilities team receives updates to their smartphones, with detailed alerts directly from equipment in the case of imminent failure. This is a vision of the 'smart building'.
While much of this scenario may have been science fiction a decade ago, in reality, this level of building intelligence is becoming more prevalent due to the advances in technology, which is also becoming less costly and easier to access for a broader range of clients. Building management systems can now go beyond monitoring the heating and ventilating, to improve the productivity of occupants, reduce energy costs and contribute to a more sustainable environment.
This shift in building capability is evidenced in BSRIA's 2018 white paper, 'Megatrends: Smart building technology*', written by Henry Lawson. BSRIA's Megatrends series of reports identifies "a revolution in technology" as just one of four key forces shaping the world in which we do business. (The other three are: urbanisation; an ageing population; globalisation.)
But what does this revolution look like out in the real world of delivering technology into buildings? Perhaps, more importantly, how does the building services sector define a 'smart' building?
Dave Lapsley, managing director of integrated systems specialist Econowise, defines a smart building as: "One that thinks for itself, one that understands its occupants and is very efficient."
Iain Gordon managing director at GES Digital and president of KNX UK, says: "Smart buildings are ever-changing. But my view of what a smart building is that it has an element of intelligence that gives it the ability to take some of the mundane and otherwise necessary tasks away from the user of that building. And that applies to both residential and commercial."
BSRIA suggests the benefits of smart buildings are that they: "Provide a better environment for those living and working in them in a cost-effective and socially responsible way."
Those involved in delivering building controls and building management systems into buildings agree that technology has moved forward. Terry Sharp, an associate with NDA Consulting and vice president of the Building Controls Industry Association (BCIA), says: "We are seeing more hot-desking being used by businesses now, with spaces available for booking. There are technologies such as smart booking systems that link to staff diaries and also the building services such as lighting and cooling".
One of the biggest shifts in technology has been the Internet of Things (IoT). Essentially, all devices with an internet connection can send or receive data – or instructions. According to BSRIA's report, a fall in the size and price of processors, along with an increase in communication speed, is making such connectivity more possible. From a building services point of view, this means, for example, that data collected from the HVAC systems can be sent to and stored on the internet to be accessed remotely by the facilities team.
BSRIA's report highlights that there has been a rapid increase in the total number of devices connected to the IoT. In 2015, it was estimated that between 10 billion and 16 billion devices were connected. BSRIA predicts that by 2020 these figures will grow to between 26 billion and 34 billion devices, doubling within five years.
What's happening in the market seems to reflect these numbers. A survey of 1600 projects carried out by IoT Analytics in 2018, shows that 12% of IoT by vertical market was in 'connected buildings'. And 23% was in the 'smart city' market.
Of course, what will drive developments in smart buildings is demand from end-users, which creates a value that translates into specifications. One driver may be that occupants of commercial buildings are increasingly turning to smart home technologies such as smart speakers
Research from eMarketer shows that in 2018, 9.5 million people in the UK used a smart speaker. This is a significant rise of 98% from 2017. The dominant brands are Amazon Echo and Google Home. We are also seeing UK consumers adopting technology such as Nest home automation products.
Both Sharp and Gordon agree that using such technology at home is more likely to raise awareness of its possibilities in the workplace.
Sharp says: "Smart building technology has previously been technology led, but now it's solutions led". He notices that changes are happening within the market as clients are becoming more educated about smart systems. End-users are beginning to look towards the benefits of smart buildings attracting and retaining staff.
However, BSRIA's report expresses that, for buildings, 'smartness' is on a scale is a gradual process rather than a single state. At the bottom of the scale are 'dumb objects' while at the top we find 'wise buildings'. BSRIA believes that most current smart buildings are somewhere in the middle: capable of interpreting information and able to find exceptions. The wise building will be a self-improving system that can identify new goals and draw information from the wider world.
As always, we find that human activity and habit are probably the main barriers to moving up the smart scale. Sharp highlights that this technology is making smart buildings more affordable and achievable. However, the influence of contractors on the application means what is delivered is not necessarily what the client wants.
And Dave Lapsley also suggests that in order for buildings to be 'smart' they need to be efficient, and that relies on occupants also being educated about how to best to use these systems. Until people use the systems efficiently, there is still a long way to go to achieve 'smart' buildings.
The technological revolution is constant and change is always with us, particularly in the field of smart building technology. The potential for these advancements is already drawing in new players to the market. As BSRIA says, the sector will be competing with others for smart technology, as well as available skills and talent. Clearly there is a need to educate clients and the next generation of engineers and users about smart technology, in order to make smart buildings a reality.
* The BSRIA White Paper Megatrends: Smart Building Technology can be downloaded from the link below.
Related links:
Related articles: