Trunk call
Jeff Kerridge explains the importance of early engagement with a manufacturer, when specifying cable management systems for offices - and what key factors should be included within the specification process.
Whether an office is large or small, every product specified should be fit for end use and be safe for those working in the premises. Cable management, though sometimes last on a specifiers mind, is no different – keeping cables protected and concealed is high on the safety agenda for building occupants, so choosing the right products is vital.
Early planning is crucial to ensuring the correct product is specified for the building. This is especially important in the case of cable management, as there are a wide variety of products on the market. By selecting a manufacturer early in the design process, having them attend meetings and visit the site, they can gain a full understanding of project requirements and advise on the most appropriate solution.
Leading manufacturers will also be able to offer bespoke cable management solutions alongside a standard offering. These bespoke solutions can often help to ensure that building regulations are adhered to even in non-standard spaces, such as PVC-U trunking that is pre-curved during the manufacturing process to fit the requirements of a specific room or area. In addition, some manufacturers can also produce PVC-U trunking in differing lengths rather than just the standard 3m lengths. This will save installation time on site, as the trunking better fits the dimensions and needs of the space.
Of course, choosing a manufacturer that produces trunking systems in compliance with relevant building regulations and product standards is key to guaranteeing that the specified solution is suitable for end use, and above all, safe.
As part of the BS 7671:2018 Wiring Regulations, trunking systems should meet the IPX requirements. These state that objects as small as 1mm in diameter cannot enter into the trunking system, and that the trunking cover can only be removed by a tool or by deliberate action. This ensures the cables inside the trunking are properly protected from damage, and that they cannot be compromised.
New wiring regulations under BS 7671:2018 came into effect in January 2019, in which Regulation 521.10.202 replaced its predecessor with a significant change. Originally, the regulation only required cables to be supported above escape routes. Now, this regulation requires cables to be adequately supported against their premature collapse in the event of a fire throughout the installation.
Leading manufacturers will provide a range of robust metal clips that are easy to install, with a spring-loaded design to ensure cables are easily reachable in the event of maintenance or wiring changes. Specifiers should also be sure to check for fire resistance, with the ideal product being resistant above 1000°C for up to 120 minutes. This will ensure in the event of a fire, cables will be held up safely should the trunking melt and avoid them falling and causing injury or blocking escape routes – minimising the risk to life.
To comply with Part M of Building Regulations, accessory boxes and plates of contrasting colours should be used in conjunction with the trunking. This will make components such as switches and plugs more visible to building occupants with impaired vision.
It is also of great benefit to specifiers to choose products from a manufacturer that produces its PVC-U trunking solutions to cover all data requirements – Cat 5, 6, 7 and 7a.
In office environments, be they small or large, it is unsuitable to have trunking with a square top. When the top is squared off, it can be tempting for people to rest items on top of the trunking – which can cause clutter, and potential hazards (i.e. drinks placed over electrical sockets.) Look to those manufacturers that are able to provide cable management solutions with a curved top, which will prevent any items being placed on top and makes for easier cleaning.
Efforts to protect our environment have made headlines throughout the last year, from the new landmark report released by the UN Intergovernmental Panel on Climate Change (IPCC) in October 2018, to the protests by Extinction Rebellion in London earlier this year.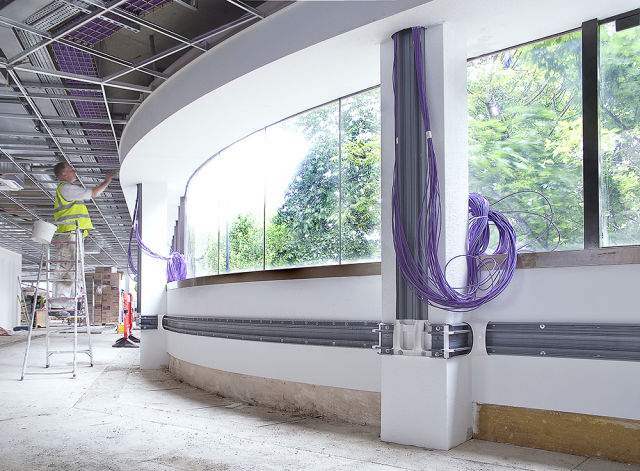 These headlines have made clear that we have a limited amount of time to avoid irreversible damage to our climate, and the construction industry has a huge role to play in helping turn the tide. This is mostly due to the fact that its estimated that the industry wastes around 120 million tonnes of material (60% of the national total) per year, with 25 million tonnes of that ending up in landfill sites.
Therefore, specifying a solution from a manufacturer that takes sustainability seriously and can prove the eco-credentials of its products is something to seriously consider. Some PVC-U cable management products are now manufactured using recycled PVC-U – reducing waste and lowering the environmental impact of manufacturing.
Whilst there may be concern that recycled PVC-U is not as robust, manufacturers such as Marshall-Tufflex utilise materials such as recycled window frames to produce their cable management systems. This PVC-U has been designed to withstand external elements and endure various types of weather, which means the trunking produced actually benefits from increased strength and durability.
Cost is a key factor in a specifier's decision throughout the project, to ensure everything is to a set budget. Although choosing cheap cable management systems is tempting, the whole life cost of the product should be considered.
Products of a lower quality are more susceptible to wear and damage, as many of these may not reach the required regulations outlined previously. This will result in the need for ongoing maintenance, replacement parts and maybe even replacing entire lengths and systems – creating additional costs later in the buildings life.
Cheaper options can also be more complex to install, increasing time on site, disruption to the end client and possibly resulting in phases of the project not being completed to schedule. They may also not undergo the same aesthetic quality tests, and therefore there is the risk of discolouration of lengths, and lengths that do not match. Whilst this might not appear to be a significant problem in the early stages of a project, it can ultimately make the room look and feel disjointed and messy.
By specifying higher-quality products from leading manufacturers, these additional costs for repairs, maintenance and replacement can be greatly reduced, and installation time can be decreased to ensure more effective working on site. Therefore, it will be more economical across the lifespan of a building to specify higher-quality trunking in the early stages of a project.
Cable management solutions are crucial to the end use of a building, and it is key to ensure that the correct solution is specified for a project. By working alongside the right manufacturer, specifiers can ensure trunking is compliant with relevant regulations and suited to each individual space and the end user requirements. By finding the right manufacturer to work with early on in the project, you will be able to ensure that the ideal solution is specified, manufactured and installed on schedule.
Jeff Kerridge is national sales manager for Marshall-Tufflex
Related links:
Related articles: