The power to deliver rapid change in office environments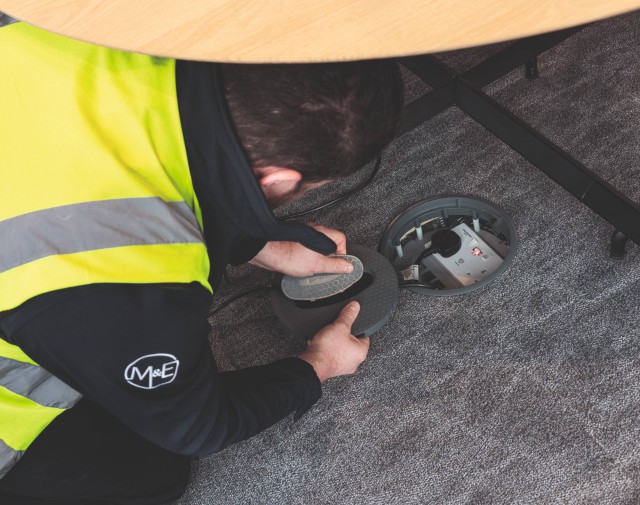 Paul Allen, head of power distribution at CMD Ltd, discusses the need for flexibility in the specification of power distribution systems for office buildings as the commercial property sector continues to adjust to new working cultures and practices.
The recent Platinum Jubilee celebrations highlighted just how much has changed over the past 70 years. The Platinum Jubilee events included lots of retrospectives on evolving tastes and fashions, and they provided a stark reminder that the way we live and work now is completely different from the lifestyles of a generation ago. The "job for life" promised in the 1960s is neither realistic nor desirable these days, and the cumbersome filing cabinets and computers that accompanied every workstation just a decade or two ago are nowhere to be seen in the contemporary paperless, agile office.
And yet, many of the commercial spaces that people have been migrating back to following the pandemic are legacy buildings that were constructed for a different era of working cultures and office equipment. New décor, furniture and IT equipment may have been brought in to replace the old, but the building services lag behind. What does that mean in practice? Often a network of ugly cable protection mats allows workstations to be connected to inconveniently placed sockets. Or, worse still, a nightmare of trip hazards from loose cables, along with regular scrambles under the desk to find a socket when something new needs to be plugged in – not the most professional start to a meeting!
For those buildings already using a powertrack or power hub power distribution system, adjusting to new working practices has been easier because these systems are designed to enable adaptations during the lifespan of the installation. Additional tap offs and/or a reconfiguration of the tap off scheme allow a revised layout of floor boxes and grommets, sockets and workstations. We have certainly seen high demand for reconfiguration and upgrade projects over the past two years, as more and more occupiers adopt hot desking and hybrid home/office working models. There has also been a significant trend for flexible power distribution layouts installed in co-working environments and serviced offices. The question now is how can specifiers predict the right power distribution strategy as evolving working cultures and innovative technologies continue to drive accelerated change in commercial office trends?
Flexibility, sustainability, resilience
The key to futureproofing the building services upgrade for any commercial environment is to combine an understanding of the current needs of the occupier with insight into evolving trends and an acceptance that we cannot accurately predict either working cultures or the technologies that will be used in offices more than fives years into the future. The growth in smart buildings, wireless technologies, VR, AR, and Bluetooth or RFID enabled tech all present the potential for rapid, sudden and exponential change, so the focus for the power distribution network needs to remain on flexibility. It may be that future occupiers will need fewer electrical sockets and more USB, wireless and data-driven connectivity, but the power distribution system should provide the flexibility to work with changing layouts and varying demand.
Another essential area to consider is sustainability. Developers and landlords are increasingly accountable for the environmental performance of their buildings, and the specification of the power distribution system is relevant to this agenda in several ways. Notably, it's important that the power distribution system has a long, low maintenance service life, to reduce the potential for strip-out and waste, even if occupiers' needs should change. The use of a high-quality powertrack system that has a proven extended service life and can be reconfigured or scaled up as required is an ideal response to this imperative.
Automated or manual switching to prevent energy wastage is another potential solution for more sustainable power distribution networks in commercial buildings. CMD has designed and manufactured some bespoke solutions for specific clients that enable an "all off"' power down out of office hours. It is likely that this type of energy-saving solution will become more commonplace as office occupiers continue to implement carbon reduction plans and are held accountable for credible environmental improvements by their customers.
Environmental performance must be balanced with resilience, however. For commercial office occupiers in sectors that rely on mission critical computerised systems, such as the banking and broadcast industries, the ability to switch from the main distribution to the UPS may also need to be incorporated in the power distribution system design. This can be done using either a powertrack or power hub distribution system, with colour coded tap offs to ensure each feed is easily identifiable. With continued volatility in the energy sector, there is potential to see an increasingly strong focus on resilience over the next few years, so dual feed installations may become more commonplace.
Retrofitting for "problem" voids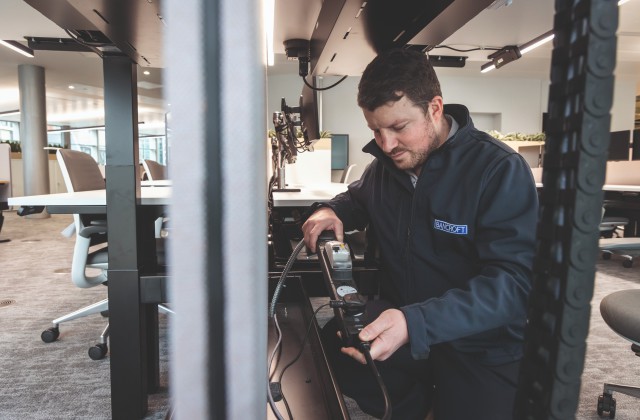 With speed and ease of installation and plenty of flexibility for reconfiguration, additional tap-offs, and parallel UPS distribution, a powertrack installation is usually the most appropriate option for flexible and scalable power distribution systems in new build developments or more modern commercial buildings, but older buildings can be more challenging. Unlike contemporary buildings, where floor voids have usually been designed with sufficient capacity for the level of services required, heritage or older buildings constructed before technology became such an integral part of the way we live and work, often have shallow or uneven floor voids. This sometimes means that older buildings are unsuitable for a powertrack system because, although the lengths of powertrack themselves are slim, the tap offs are made to the top of the track and require sufficient clearance for maintenance or reconfiguration.
The conventional response to insufficient or inconsistent floor voids would either be to opt for a hard wired electrical network, or to raise the floor in order to increase the void space, but these are onerous solutions that would add time to the programme, and raising the floor could compromise headroom. A power hub system provides a convenient alternative to a conventional powertrack, which overcomes the issue of shallow or inconsistent floor voids while offering the same speed and ease of installation, maintenance and reconfiguration benefits.
With a reduced height - just 38mm for our Power Hub as compared to 47mm for our Betatrak powertrack – power hub systems have tap-offs located to the side of each unit rather than above. This makes them a much more suitable, compliant solution for shallow and undulating floor voids.
Power hub systems combine compact hub units with flexible metal conduits or "umbilicals", which connect the hubs together to create the electrical distribution network. The metal flexible conduits provide cables with mechanical protection, allowing compliance with Wiring Regulation 543.7 "Earthing requirements for the installation of equipment having high protective conductor currents". They also protect cables from dirt ingress and rodents, ensuring a similar level of resilience to powertrack systems and ensuring that the electrical distribution system offers a low maintenance, fit and forget solution.
Power hubs can be specified in 4-way and 6-way units, which can be wired in a series circuit in the required configuration. Tap-offs are made to the side of the power hub unit, using BS EN 61535 compliant connectors in a metal housing to ensure a secure and safe tap-off connection. A choice of tap-off units allows electrical supply to be routed to the required locations, regardless of how densely populated the floorplate will be, while minimising the number of hub units required, thereby keeping costs and installation time down, reducing maintenance and optimising space in the void.
Additional hub units or tap-offs to existing units can be retrofitted to the installation at any time, with no additional space required for plugging in or unplugging tap-offs and the potential to configure multiple power hubs together on a single circuit. This provides the flexibility required for commercial environments to continue adapting to changing working cultures and technologies.
Readiness for change
Change in the workplace is nothing new: even those whose working lives can be counted in years rather than decades know that. But the impact of the pandemic, technological innovation, and the emerging jobs that never previously existed are all accelerating change. Building services need to be ready to adapt, so building the flexibility to reconfigure existing power distribution networks without time-consuming, expensive and wasteful strip out is a central part of our readiness for change.
Related links:
Related articles: