Collaboration is key

Managing multiple buildings with controls can only be achieved by using the correct hardware, an effective protocol and a collaborative design approach, argues Paul Foulkes.
Collaboration is essential throughout a building's life. The larger and more complex our buildings become, the more it's needed. 
Intelligent building services installations enable effective collaboration by integrating multiple protocols and managing a variety of data requirements. This information can be made available locally and remotely, and used across a variety of platforms to deliver efficient, safe buildings.
Sounds straightforward enough but this level of building integration is only really possible if the design route has been a truly collaborative process from the very early stages.
Even with the introduction of BIM, a large part of the UK construction industry still has a silo approach to the building process. This becomes even more evident in the design and installation of the building services.
Real integration
Today, the construction press and associated media is constantly full of terms like: integration, connected, smart, intelligent and, in the past few years, AI. Yet the separations that exist in our design and building process are still vastly removed from any of these concepts. I often get asked about AI in buildings, and I chuckle because I see buildings where the heating system won't 'talk' to the ventilation system, or in an £25M project the £4K light management system is removed for cost savings. The gulf between what could be done and what is actually done remains apparent.
Engineers need to take a larger role in planning and design of buildings. They need to be supported by processes and hardware that facilitate and encourage the developer to engage with them from the earliest stage.
No single product or protocol can deliver the entirety of a building's management needs. This choice is often compounded by vague design specifications, a misunderstanding by the designer of what can be achieved and cost cutting disguised to the client as "value engineering".
As engineers we can help by advising on the best choices and breaking down the silos that exist in a fractured tendering system. The choice of services installation system, linking multiple protocols and design requirements is paramount.
Truly open protocols such as KNX offer integration opportunities that can create the backbone of efficient buildings. Given that backbone, the design engineer can inform the teams involved how real integration can happen, to deliver a futureproofed, efficient and sustainable building.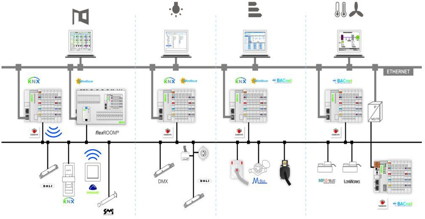 Multiple building services can be combined with KNX, reducing hardware and costs while retaining full functionality. Linking this field level of control to the automation and management level is one of the keys to a fully integrated services installation. Installation using, for instance, compact WAGO hardware, allows for simple communication to multiple BMS protocols such as Modbus and BACnet. Adding MQTT as a cloud connection protocol, via TCP/IP potentially over a 3G or 4G network, brings a new dimension to building management and data availability, even for the remotest locations and the most demanding clients.
More creativity
KNX's 400-plus manufacturers and 7,000 products allow for integration at all levels, for all building types. Certainty and confidence can be delivered with KNX, in a solution that has been available for more than 25 years and is fully backwards and forwards compatible. This creates a fully future-proofed installation and peace of mind for the client.
The KNX approach allows for creativity by the integrators, with new apps and multiple visualisation packages. The same hardware can be used in residential, MDU, commercial and mixed-use with a choice of front end interfaces depending on the end-user.
Specific client needs, in areas such as healthcare or later living for instance can be facilitated, accessing the relevant data and integrating it to the existing building services.
KNX is design driven, has multiple levels of integration, and has the flexibility across multiple installation typologies
If the developer and the architect know this, then it is far more likely that engineers will be included at an early stage in the planning process. This collaborative approach then really makes sense when considered in parallel with the ideals of BIM. This is why old-fashioned bunkerthinking doesn't work.
The end result is a better product, a better building, and that is vital as a building is, or at least will be if designed collaboratively, going to be with us for a long time. Perhaps I am singing to the choir with some of the readership of MBS. If so, please regard this article as a call to action to spread the word.
Paul Foulkes is a KNX UK board member and Building Automation manager at Wago UK
Related links:
Related articles: