A RADIANT SOLUTION

Nigel Coston explains why radiant panels provide the ideal conditioning solution in the challenging healthcare environment.
For specifiers, balancing the requirements of the healthcare sector can be a challenge. At a time when healthcare is under close scrutiny from the public and from regulatory bodies, it is vital to make informed decisions and choose the best possible solutions for building services. In terms of specific requirements for the health sector, there is a strong argument for the use of radiant heating and cooling (RHC) panels to be used in these environments.
Health and safety
Temperature and indoor air quality (IAQ) play a huge part in determining the comfort levels of healthcare buildings and their occupants. In the cooler months, this of course applies to how rooms are heated and how comfortable levels of warmth are maintained, but as the summer months approach, cooling becomes a key focus.
A good system can do so much more than just control temperature, and can play a significant role in protecting occupant health and reducing the spread of illness. For example, RHC panels can be specified with an anti-bacterial coating, which will prevent the growth of harmful bacteria such as E.Coli and MRSA and therefore reduce the risk of infection and disease. In addition, as these panels are located in the ceiling, any risk of bodily fluids spilling on to the panels is minimised, preventing health concerns such as bacteria spreading at certain temperatures. Radiant ceiling panels are thus a preferable solution to underfloor heating in such environments, which can be impacted by floor cleaning and spilt fluids.
Radiant ceiling panels provide heating solutions from a high level, therefore reducing the risk of causing injury or discomfort when touched. This also means that walls and floors can be kept clear for vital equipment, ensuring space is used effectively, leaving room for vital medical equipment.
The issue of air quality is rising sharply up the political and social agenda, and there is now an increasing recognition of the part that ventilation and heating can play in improving indoor air quality. Radiant heating panels distribute heat via water, rather than air, reducing the risk of air-related problems such as mould and condensation, which can cause their own significant health risks. Having heating and cooling solutions that could potentially cause a health risk in a medical environment is clearly not advisable, so radiant panels provide a sensible and safe alternative.
In terms of cooling, there are clear benefits over alternative systems as well. Radiant panels have higher chilled water temperatures (14-18°C) than chilled beams, which mean chillers and heat pumps can work more efficiently, saving on energy consumption and costs.
Radiant panels also produce minimal draughts, which can be particularly harmful to patients already suffering with ill health, and they do not create condensation, which again reduces the risk of infection or the spread of bacteria. These benefits are vital in healthcare environments where stringent regulations mean that absolutely every part of the building must be made as safe and risk-free as possible to prevent health crises and disease outbreaks.
Maintenance
Although all heating solutions need to be checked and maintained, lengthy or regular planned maintenance can be inconvenient, costly and disruptive, especially in a healthcare setting. Choosing heating options which are easy and quick to clean and service, will reduce the amount of maintenance needed, eliminating these disruptions.
Radiant ceiling panels use water as the heat transfer medium and they heat objects and occupants rather than the space which reduces energy use. According to an ASHRAE study comparing variable air volume (VAV) and radiant systems, the capital cost of the radiant solutions was lower, and 'the resulting energy savings of the radiant system compared to VAV in the second and third year of operation was 42%.'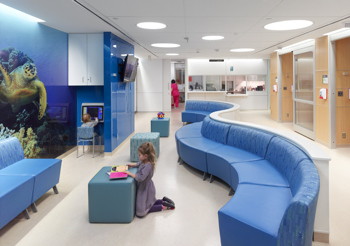 Radiant ceiling panels have no moving parts, so they are very simple to clean, requiring just a cloth and mild detergent. Compared to other indoor climate solutions, such as underfloor systems which would require entire wards or healthcare facilities to be evacuated or closed whilst the floor is taken up, the disturbance caused when servicing or cleaning radiant ceiling panels is minimal.
Adaptability
With hospitals and other healthcare settings facing increasing and continual pressure to perform efficiently, restructuring and reorganisation of space is common. Radiant ceiling panels are easily manipulated and moved within ceiling grids to adjust where the heat is directed.
Ceiling panels are also well suited to areas with occasional occupancy, or where people pass through, such as corridors, reception areas or storage spaces. Another feature that ceiling panels offer in terms of adaptability is the functionality they provide. Panels can cool as well as heat, depending on what is required, offering an efficient solution which requires no additional servicing or alterations.
Regulations
Buildings across all uses and sectors face strict regulations and guidelines, covering issues such as energy efficiency, safety and use of space. There are also best practice standards which will improve the performance of a building. In the heath sector it's vital to show that standards are being met, to reassure patients and visitors that the building is a safe and healthy environment.
Regulation 15 of the Health and Social Care Act 2008: Regulations 2014, states that 'all premises and equipment used by the service provider must be 'clean, secure, and suitable for purpose'.
More specifically, the Health Technical Memoranda (HTM) 03-01, offers 'specific advice and guidance on the 'design and management of heating and specialised ventilation in health sector buildings'.
Choosing radiant heating and cooling panels will not only guarantee that health sector properties are meeting standards, but will also show a marked commitment to providing solutions which ensure the safety and comfort of those occupying these spaces.
Nigel Coston is technical director, Zehnder Group UK
Related links:
Related articles: