Cool partners

How smart design and collaboration met tight deadlines at Europe's largest data centre to deliver energy-efficient cooling solutions.
Data centre specialist Next Generation Data (NGD) is known for its fast build-out programmes of only 16 weeks. When work began on a ground floor expansion for its high security data centre in Newport, NGD worked with supply chain partners Stulz UK and Transtherm Cooling Industries to achieve the strict deadline.
At about 70,000 m2 in size and with a capacity of over 22,000 racks, NGD's Tier 3+ data centre is the biggest in Europe and serves some of the world's leading companies, including BT and IBM. This South Wales campus is also one of the most efficient data centres in Europe with low Power Usage Effectiveness ratings (PUE).
For this expansion project, NGD specified 114 data centre specific GE Hybrid Cooling Systems from manufacturer Stulz UK, plus a combination of 26 horizontal and VEE air blast coolers and pump sets from industrial cooling technology specialist, Transtherm.
Phil Smith, NGD's construction director, comments on the company's build-out timescales: "Completing a build of such scale and complexity within just four months requires more than 500 construction workers to be permanently on site. Suppliers are required to adjust the design and build of their products in accordance to the build schedule and deliver them just in time for installation. The solution provided by Stulz and Transtherm is a great example of how data centres can work with trusted, reliable and dedicated supply chain partners."
Meeting deadlines
Stulz UK set about devising suitable production alterations which would enable them to deliver their equipment within NGD's rapid build programme.
Mark Vojkovic, sales manager for Stulz UK, explains: "We altered the manufacturing process of our GE hybrid units to enable us to deliver the technology in two halves. First to be delivered were the fan bases, which were installed onto their stands during the earlier stages of the build, just in time for the construction of the suspended floor. Later in the build programme, between weeks 10 and 12, Stulz UK delivered the upper coil sections of the air conditioning units and Transtherm delivered, installed and commissioned their equipment on the outside of the building."
Tim Bound, Director for Transtherm adds: "It's vital on projects of this size that manufacturing partners can see the bigger picture and adjust their own project parameters to suit. This project is a real testament to how Stulz UK and Transtherm can combine their technologies, engineering know-how and logistical capacity to deliver a substantial project, within potentially restrictive time and installation constraints."
The Stulz GE system utilises outdoor air for free-cooling in cooler months when the outside ambient air temperature is below 20°C, with indirect transfer via glycol water solution maintaining the vapour seal integrity of the data centre.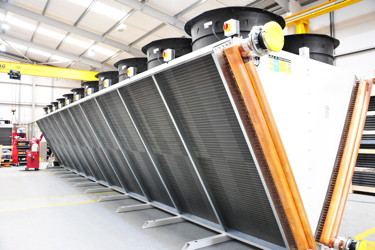 The indoor unit has two cooling components, a direct expansion (DX) cooling coil and a free cooling coil. In warmer months when external ambient is above 20°C, the system operates as a water-cooled DX system and the refrigeration compressor rejects heat into the water via a plate heat exchange (PHX) condenser. The water is pumped to the Transtherm air blast cooler where it is cooled, and the heat rejected to air.
Below 20°C external ambient temperature, the system automatically switches to free-cooling mode, where dry cooler fans cool the water to approximately 5°C above ambient temperature before it is pumped through the free cooling coil.
Partnered for efficiency
In cooler months, dependent on water temperature and/or headload demands, the water can be used in "mixed mode". and directed through both proportionally-controlled valves which enables proportional free cooling and water-cooled DX cooling to work together.
Crucially, 25% Ethylene glycol is added to water as an antifreeze to prevent the dry cooler from freezing when the outdoor ambient is below zero.
On the periphery of the building and on its gantries, Transtherm's 26 VEE air blast coolers are fitted with ERP-ready fans and deliver significant noise reduction when compared to other market leading alternatives, in accordance with BS EN 13487:2003.
Tim Bound concludes: "Stulz UK and Transtherm are proud to be part of NGD's continued expansion plans as they move at speed to meet market opportunities within their sector. This most recent expansion showcases the many benefits of established supply chain relationships, especially on campus build-outs which need to deliver quality on the tightest deadlines."
Related links:
Related articles: